Princeton School of Public and International Affairs Hosts AWTT Exhibit
We are happy to announce that several AWTT portraits will be on exhibit, from March 20 though May 31, 2023, in the Princeton School of Public and International Affairs Bernstein Gallery.
According to the Gallery's website, it "is dedicated to art exhibitions that stimulate thinking about contemporary policy issues. Each year, the gallery presents curated shows to Princeton University students, faculty, staff, and the community at large. The exhibitions are complemented by receptions and panel discussions with artists, experts from Princeton University, the School, and outside organizations. Integrated with the School's multidisciplinary approach, the goals of the gallery over the last 15 years have been to enhance the impact of the course curriculum and to deepen people's commitment to the ideals of public service."
The gallery is located in the Bernstein Lobby, lower level of Robertson Hall, which memorializes Marver Bernstein, the School's first dean, and his wife, Sheva.
The gallery is free and open to the public. Hours during the academic year are Monday through Friday, 9 a.m. to 5.
About the Exhibit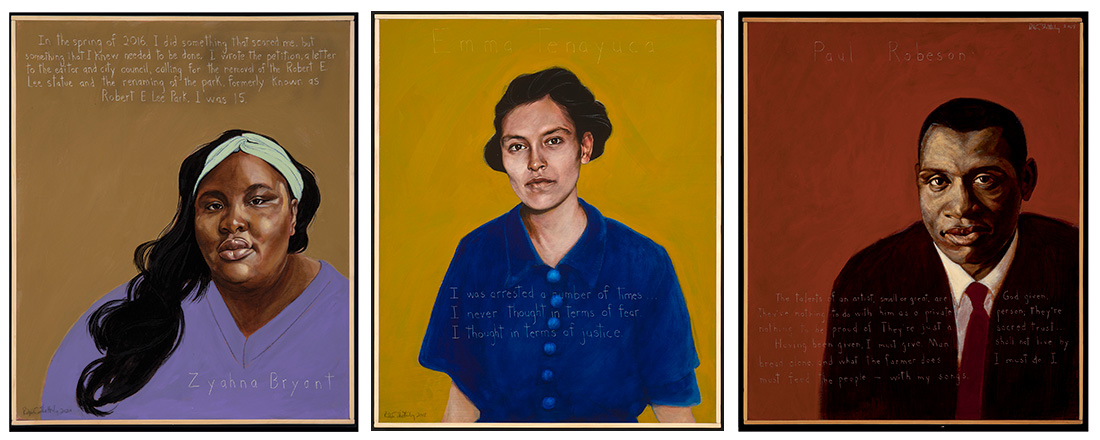 "What are the obligations of citizenship? How does dissent safeguard democracy? How can we demand the truth from politicians and the media? These are some of the questions that animate artist and activist Robert Shetterly's ongoing series Americans Who Tell the Truth.
"For over twenty years, Shetterly has painted portraits of citizens who address issues of social, racial, economic, and environmental justice. The series began in 2002, during the aftermath of the September 11th attacks and amidst the lead-up to the Iraq War, and grew out of Shetterly's desire to honor those who spoke truth to power. Since then, the series has grown to include over 250 paintings that depict a diverse range of individuals, including artists, writers, political leaders, whistleblowers, and educators.
"The paintings on view in this exhibition portray people who became activists at a young age. The intergenerational group ranges from famed Princeton-born singer, actor, and civil rights activist Paul Robeson (1898–1976) to Charlottesville student organizer Zyahna Bryant (b. 2001). The exhibition includes portraits of labor organizers Emma Tenayuca (1916–1999) and Ai-Jen Poo (b. 1974); environmentalists Lois Gibbs (b. 1951), Kandi Mossett (b. 1980), and Kelsey Juliana (b. 1996); and peace activists Camilo Mejía (b. 1975) and Channapha Khamvongsa (b. 1973). Other individuals represented include healthcare and economic justice activist Ady Barkan (b. 1983); the founder of the "Me Too" Movement, Tarana Burke (b. 1973); civil rights lawyer and television commentator Van Jones (b. 1968); LGBTQ+ advocates Nicole and Jonas Maines (b. 1997); and the Bay Area civil rights advocate Lateefah Simon (b. 1977), who is also a 2024 congressional candidate.
"Although their dedication to their respective causes began early in life, these leaders have each made a significant impact. Each portrait is accompanied by a quote from the subject, highlighting the important work these individuals have accomplished, and the ongoing struggles for justice that they continue to inspire."
Artist Biography
Robert Shetterly is a visual artist, social activist, and writer. Born in 1946 in Cincinnati, Ohio, he graduated in 1969 from Harvard College with a degree in English Literature. A painter, printmaker, and illustrator, he is best known for his portrait series Americans Who Tell the Truth, which is the subject of the recent documentary Truth Tellers (2021). The project is also being published in a multi-volume book series, which includes Portraits of Racial Justice (2021) and Portraits of Earth Justice (2022). Shetterly has engaged in a wide variety of political and humanitarian work with many of the people whose portraits he has painted. Shetterly lives and works in Brooksville, Maine.